"Painful" – I Felt Disappointed When My Husband Told Me To Use A "Vibrator" Anytime I Feel
Indeed, true love stories never have endings and it does not only portray how you feel but something you do. My name is Cindy and I'm a student in one of the universities in Accra. I'm dark-skinned and very gorgeous to be precise. I've work with the banking sector and that encouraged me to pursue an accounting course in the university. Currently, I'm 32 years and I live alone in Accra while my husband also works and live in Tamale. He normally comes home every two weeks and we do enjoy ourselves together.
I do normally have deep conversations on the phone with him and that has kept me emotionally engaged. Eventhough I receive proposal from young and adult students on campus, I decide to remain on my grounds since I'm a married woman and cannot afford to cheat on my husband.
Recently, I've noticed a change in my husband's behavior and I don't know if I'm overacting. Instead of coming home every two weeks, he has changed to coming home every two months. I've asked him countless time and he uses the job as an excuse. I don't know if my husband is cheating on me at his place. He called me some days ago and I said I've missed night games with him.
All he could tell me is to use a "vibrator" anytime I feel like. I got really hurt and disappointed when my husband told me that. How can I replace him with a machine just to satisfy myself. After the call, I felt disappointed and cheated and I want to repay my husband's saying with a revenge.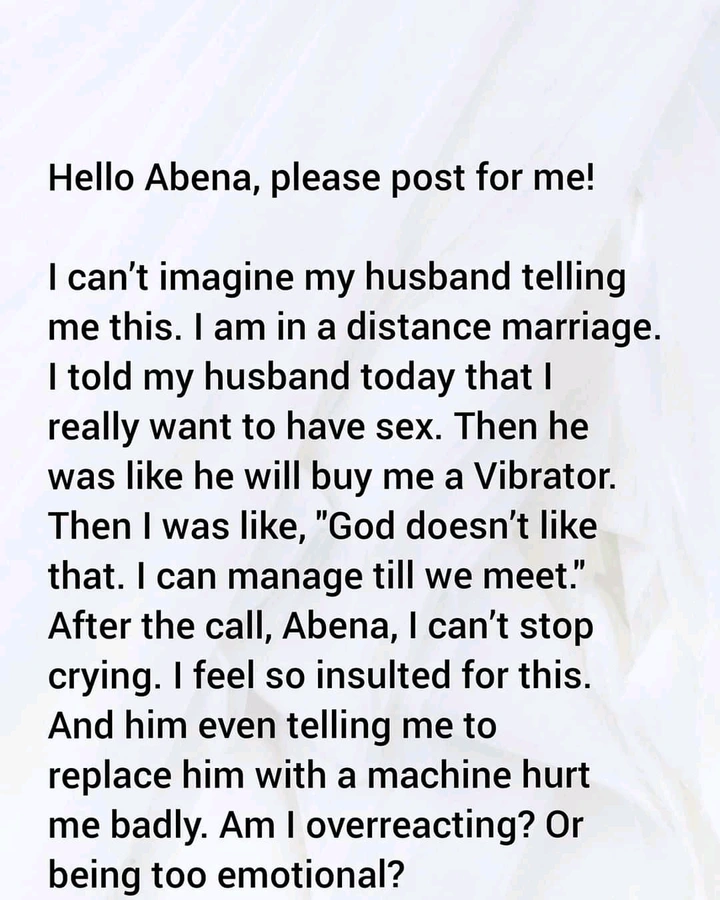 Please help a sister, I'm I overreacting or I should take it cool and just pretend it's one of those games. Thank you very much and would be reading through the comments.